Hob Hurst's House.
Location-
Beeley Moor, Beeley, Derbyshire.

O.S Grid Reference-
SK2875 6924.

Parking at Hellbank Plantation above Beeley follow the un-metalled track down to the large gate that allows access to the moor of Beeley Warren. Once over the stile take the hollow-way on your right and follow it to the next gate at the corner of the Bunkers Hill Plantation. After tackling the stile here follow the track uphill, alongside the plantation, toward Harland Edge, when you're at the top of the hill turn right, Hob Hurst's is 30m away in a wire fence enclosure.
As with a number of other monuments in the vicinity Hob Hurst's House is unique in the Peak District, (the only possible relative to it being the barrow at Rod Knoll which today may look similar only after being excavated).
Rectangular in shape the barrow is surrounded by a steep sided ditch, 1m deep, and low earthen bank approximately 20m in diameter. The central barrow measures 8m in size. Its top mounted by a ring of still visible kerbstones of a cist, originally there would of been around 13 stones in the circuit, standing up to 1m high. Today they are much lower which is probably a result of silting up or backfill from Bateman's exploration of the mound in the 1840's. The monument on whole looks very similar to the way he drew it back then. His excavation unearthed traces of burning and a cremation accompanied by two pieces of galena (lead ore) which was surrounded by an arc of small stones.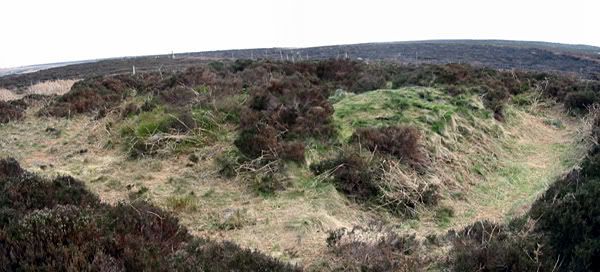 Above: Hob Hurst's House.
Below: The cist.