Boars Low.
Location-
Tissington, Derbyshire.

O.S Grid Reference-
SK1693 5259.

Formerly known as Bowers, Bose and Rose Low this impressive Bronze Age barrow is for the lazy as you don't have to leave the car to view it. It stands by the turn off to Tissington on the A515 Ashbourne - Buxton road.
Around 25m in diameter it still stands to a height of just over 3m. Lucas excavated part of the mound in the 1860's recording a contracted and cremated burial; also a much later Anglian burial.
In Robert Harris' book Walks in Ancient Peakland he notes two stones in the fields over the road as being aligned to the barrow. There are actually 3 stones visible but one is off the alignment and therefore not mentioned, whether these are prehistoric standing stones is open to debate, standing in a field of deep ridge and furrow were the stones just too large to move for the plough rather than being respected as ancient.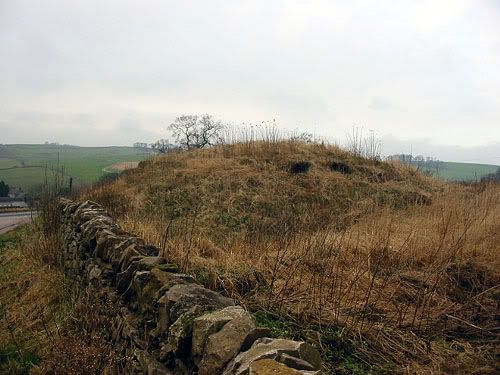 Above: Boars Low.
Below: One of Harris' standing stones.