Hathersage Moor ring Cairn

Location -
Hathersage Moor / Toads Mouths area
South Yorkshire
OS Grid Reference - SK 25675 80943

One of the more difficult sites to find but worthy of a visit as one of only three Ring Cairns located within south yorkshire, the others being Ciceley Low and strawberry Lea.
Once your upon the site it's very easy to define and there's several large stones still in situ, one i measured at 97cm in length.
Visiting this one means a trudge through mature heather for a couple of hundred metres and there's no path.
Described elsewhere as a ring Cairn but it wouldn't take a great leap of faith to believe this was actually a stone circle, the remaining stones if stood would be quite impressive in local terms, go take a look and draw your own conclusions. !
The best preserved section is to the North East, though the whole circumference is easily made out, bar the entrance to the South which itself is well preserved.
I counted 12 stones remaining, some of them quite large, unusually so locally in terms for ring Cairn stones.
I measured the diameter at around 10 metres with the bank being around 2 metres at it's widest.
to the north Higgor Tor looms large around 1km away, with Over Owler tor some 500 metres to the West.


I parked at Surprise view car park and made my way up towards Over Owler Tor via the Millstone Edge path.
Once on top of the tor you'll need to make your way down hill towards the brook at the bottom.
There's no real sight lines or features to guide you to the exact spot, and you will need to be right on top of it to have any chance of spotting it, the only help i can offer is it's unusually close to the brook, within 2 - 3 metres.
Happy hunting, and good luck. !

A section of the bank, with some of the remaining stones.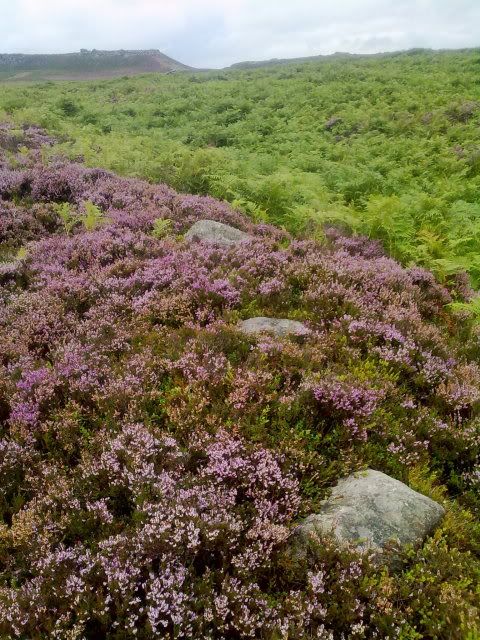 Difficult to make out, even when you within metres of it.
Higgor Tor in the distance with a hint of Carl Wark to it's right.