The Headstone

Location -
Hallam Moor
Sheffield / Derbyshire border
OS Grid Reference - SK 2559 8735

Route 1.
From Redmires Road and parking by the upper of the reservoirs follow the path on the opposite side of the road from the road that follows the "conduit": a man-made dyke marked on the OS map at SK 26018578. You'll need to follow this for about 1km and through several gates till you come to a junction with a path crossing a small bridge on your left, and a path to your right onto the moor. You need to take the latter.
*Head downhill following the path where after around 200 metres or so you'll see a path that leads off to the left via a gate, cross the small stream and take this path for another 3 - 400 metres and it will lead you straight to the Headstone.
Please note, the moor in this area, especially by the stream can be very boggy during the winter months and also after prolonged rain.

Route 2.
An alternative path leading to the Headstone can be found around 200 metres further along Redmires road on the opposite side to the Resovoirs at SK 2568 8569 though this route leads straight uphill over the moor and can be rather muddy and boggy in places, when you cross the bridge over the conduit you need the path straight ahead down onto the moor, the directions from here are than the same as above*.

The Headstone is a large naturally occurring upright block of grit stone surrounded by a sea of smaller rocks, due to the many fractures in the rock and viewed from the right angle appears to have facial features.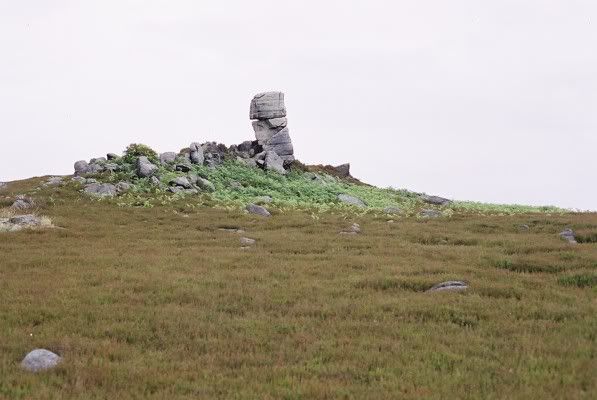 And with Kids for scale.