Crook Hill

Derwent Valley
Off the A57 by Ladybower reservoir
Derbyshire
Grid Reference SK 1844 8710

Parking at Rough Wood car park on the A57 snake pass, head back to the reservoir and at the junction turn left (taking care along the verge) then look for the path marked 'Crook Hill Farm'. Make your way uphill till you reach the farm house then go through the gate besides the farm, a short way along the next stretch of path head NW(ish) off the path between the post and sign, ( see pic below) you should be able to spot two sets of wheel ruts made by the farmers tractor, take the ones to the left for around 70 metres and you should see the two standing stones to your right in the grassland

This small circle is located in the shadow of the 2 rocky crags on Crook Hill.
Of the 5 stones that make up the circle, only 2 remain standing ( both around 50cm tall ) the fallen ones are becoming overgrown with grass.
Small patches of rubble may mean the circle was a kerb cairn.
Excellent far reaching views with White Tor and the Salt Cellar in the East, Win Hill and Bamford Edge in the South and the crags of Crook Hill in the West, there's also one of the best possible views to be had in the area of Ladybower reservoir.
Please note: Please try to arrange your visit outside lambing time, this small concession is a tiny price to pay to ensure future access.




Ladybower reservoir with Bamford Edge in the distance.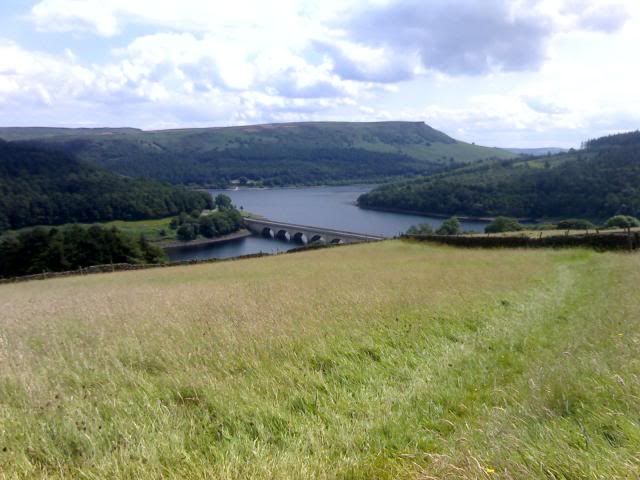 The tractors ruts should be visible between the small post left of picture and the signpost to the far right, take the set to the left.