Rains Cave.
Location-
Longcliffe Crags, Derbyshire

O.S Grid Reference -
SK226 553

Situated on the Eastern end of Longcliffe Crags, a dolomite limestone outcrop similar, although smaller, to those at Harborough Rocks and Rainstor Rocks, this is notoriously difficult cave to find. The entrance, small at ground level and located between large boulders is approximatly 85m from the Observer Corps Box. The only real clue to its location is the downfall of small rocks down the upper limits of the crags; ejected from an excvation of the cave.
The entrance leads down into a tight sloping chamber where Peterborough Ware from the Neolithic period along with a wide variety of animal bones were recovered.
On private land although several footpaths skirt around the outcrop, the small brick built Observer Box clearly visible on its top from the Moor Lane minor road that leads from Brassington to Elton.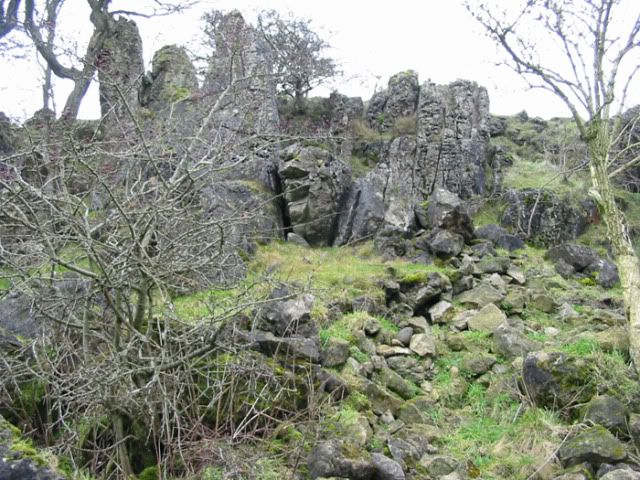 Above: The rough location of the cave with the excavation spoil.
Below: The entrance to Rains Cave.