Carl Wark

Location -
Hathersage Moor
Sheffield
South Yorkshire
OS Grid Reference SK 2557 8187

A strange one this, although it complies with the general rules of what a hill fort should be, steep sides and defensive walling, it's unusual in that the interior is boulder strewn with no real room for occupation, there's certainly no room amongst the boulders to allow even the smallest of dwellings to be built.

Laying in the shadow of Higgor tor it's suggested this site may be more of a defensive retreat or ritual enclosure rather than a true hill fort, this is backed up by excavation evidence of the site being "clean," there's no signs of of the general every day rubbish you'd expect to find in an occupation site.
My opinion leans towards retreat though from where i have no idea as there are no known settlements in the immediate area though there are a signs of a solitary hut circle and a few cairns close by.
It's been suggested the walling could even have been erected as a snub to the fort at Mam Tor, blocking the view to there.
As the site is so easy to access the best thing to do is go up there yourself and take a look, i'd certainly be interested in any of your opinions of this enigmatic site.

There's a few ways to get to this site but probably the easiest in terms of walking and giving you the excellent views down the Hope valley and an elevated view of Carl Wark is as follows.

From the Fox House Inn on the A625 Hathersage rd follow the road for around 1.5km, over Burbage brook and the little bridge that takes the road over it through a sharp left turn then passing the Surprise view car park further along on your right and heading down hill towards Hathersage where you'll see a sharp right turn marked "Ringinglow" onto a narrow lane. Follow this for around 1km uphill, as the road starts to level out you'll see a parking area to your left and an access point onto Hathersage Moor to your right at SK 2563 8227, this is the one you need.
Follow the obvious path up hill onto Higgor tor and head south across it's top where you'll find a path requiring a short but simple scramble down on to the more level path that leads you right to the Northern entrance to the site.
There is a route up from the fox house Inn but along the way many paths intersect so if you take this route you'll definitely need the appropriate OS map for the area, Explorer OS 1 The Peak District Dark Peak.

The defensive wall.

The entrance to the South.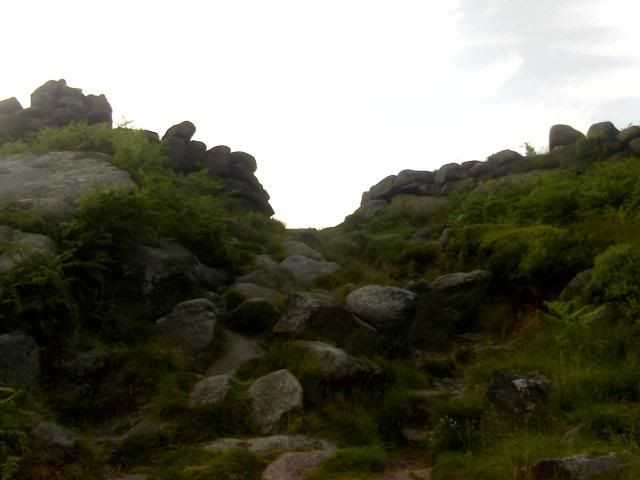 Panoramic view.

Use the zoom out button to expand the view then drag the picture left or right.