Castle Naze Hill Fort.
Location-
Dove Holes, Derbyshire.

O.S Grid Reference-
SK054 785

Overlooking Dove Holes Castle Naze, or Combs Moss as it is also known, is a triangular shaped promontory hill fort defended steep drops on two sides and by double banks and ditches on the other.
There is room to park at the base of Combs Moss on the minor road from Dove Holes to Combs road. And access to the fort is gained from the very obvious and well constructed medieval pack horse track that leads up the hill into the fort.
Covering an area approximately 2.20acres in size the triangular shaped hillfort was studied in the late 1950's. It was during this investigation it was discovered that the fort had undergone two distinct phases of construction during the Iron Age. Firstly a drystone wall had been built along the south side and then later replaced by a ditch with an inner bank, and a new outer rampart again faced with dry stone walling. Although investigated no excavations were carried out and so little else is known about the history of the fort, although roman coins were found near to the spring enclosed within the defences. It is this springs location that probably saw the pack horse track being built up to the fort in the medieval period.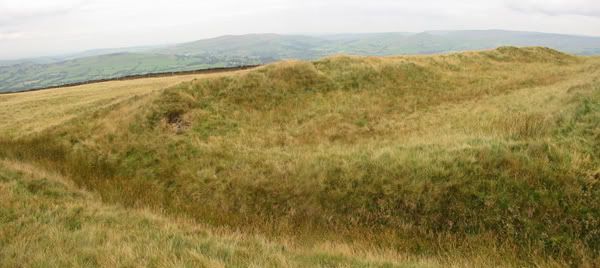 Above: The entrance.
Below: The double banks and ditches.